Today at Prescot Street the summer has ended with heavy rain, hence I am here writing a blog! We have been lucky as for us, we had a relatively dry August in comparison to the rest of Britain. However, like farmers, archaeologists like the rain for a number of reasons. It softens the soil which makes it easier to dig, and makes the colours of the soil easier to identify; also it gives the opportunity look over our paperwork. In the past, I have written at length about ARK and David Harrison's scanning of our plans and on a day such as this, whilst we wait for the rain to past the value of these policies are apparent. I must resist the urge to write about the weather, and so I will give a brief overview of where we are on site. We are now approaching the last few square metres of Zone 3, which will leave us which just Zone 4 to excavate (the small area beneath the site access road), so we will not be on site for much longer.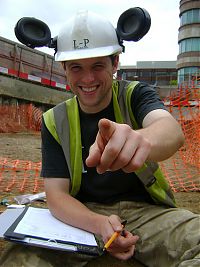 So your final opportunity to view the site, our finds and get a valuable insight to what commerical archaeology is really like is Tuesday 16th September at 6.30pm, when we will have what will be our final Open Evening. With this Open Evening, you will get a very good overview of the Prescot Street site as we will are entering our final phase of excavations, thus we will be able to give a very good overview of the site, and some of the ideas which were put forward at our previous National Archaeology Week Open Evenings, back in mid-July, will have much more evidence to support the background information. Keep an eye on the website to see who maybe speaking as I found these most interesting (keeping in mind I get to see the site everyday).
So whatever your area of interest, I am sure a trip down to Prescot Street will be most enlightening!