No journal entries for ages and then 2 come along at once!
I have just been at the SXSW Interactive festival in Austin, Texas to participate in a panel entitled The Real Technology of Indiana Jones. The SXSW Interactive is a real geek-fest with all the great and the good of the digital world coming together to discuss the new things in the digital world.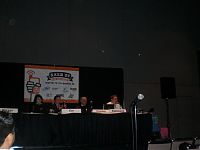 The panel was organised by Dr. Adam Rabinowitz of University of Texas at Austin (who is using ARK for his excavation in Ukraine) to bring together people in the archaeological world who are attempting to use new and emerging digital technologies to get the message of archaeology out there. I was joined on the panel by Colleen Morgan of UC Berkeley who was talking about the cool stuff that she has been doing at CatalHoyuk within Second Life (and other New Media techniques) and Bernie Frischer who is the director of the Rome Reborn project.
This panel was a good opportunity for us to showcase the digital work and outreach we have been undertaking at Prescot and to gain some useful insights from the digital world as to how to improve it. It was also interesting to present the digital project at Prescot to non-archaeologists (and to people who are at the cutting edge of all that web stuff). The good news is we got a bunch of new visitors to the Prescot website (and even got tweeted about by a leading blogger).
You can download a PDF of the presentation here