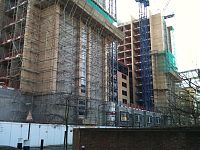 As is so often the case in commercial archaeology, in the months since the end of our time at Prescot Street development works have continued and our collective attention has been diverted to other projects. Taking advantage of a recent spat of sunny weather, perhaps the first sunny patch in the last 4 months, I went for a walk from the Brick Lane office down to Prescot Street to see how the construction is progressing. As you'll see from the photos, development has certainly made some strides since we left a large hole 16 months ago!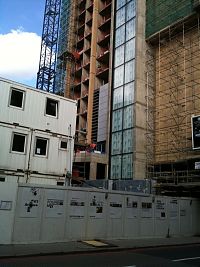 It isn't only on site that things are progressing at a reasonable pace. A number of people have been working on the Prescot Street remains in the last year. The specialists have now completed an assessment of all the materials recovered, and Chaz has had a chance to complete a write up of the stratigraphic sequence of the site. These will be packaged together as a single (massive!) assessment report which will be used to inform us how to proceed with analysis at the site.
We will be releasing the specialist reports within the next month, so check back soon if you're interested in getting all the details first hand!