GIS

/IT specialist and site weapons expert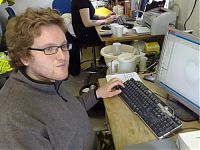 Finishing his BSc in Archaeology in 2003 at Bournemouth University, David has worked for several field units including Wessex and MoLAS. In 2006 he completed an MA in Maritime Archaeology at the University of Southampton. His main research interest lies in the archaeology of ships and maritime communities.
He has undertaken GIS based projects as a Research Assistant at Bournemouth University and at English Heritage's National Monuments Record in Swindon.
David is currently the Prescot dig's IT Specialist, and is responsible for the digitisation of site plans, GIS mapping and handling survey data.
David's Journal Articles