The Magdalen Asylum for Penitent Prostitutes
The Magdalen Hospice was opened in buildings formerly occupied by the Old London Infirmary, on August 10th 1758 to reform and educate women that worked in prostitution or had 'fallen from virtue'.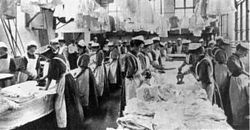 The buildings were leased through the fund raising efforts of Dr William Dodd, a famous clergyman, speaker, after-dinner orator and Masonic Grand Chaplin, nicknamed the macaroni parson because of his extravagant lifestyle. He was convicted of fraud in 1777, and despite public protest, was the last person hanged for forgery in England.
The Hospital moved to Southwark in 1769, where it became an approved school for girls.