Goodmans Fields Theatre
According to Beazley's Historical Account of the London Theatres, a sort of theatre or booth existed at Goodmans Field from 1703, built by Thomas Odell, a licensee of plays, for the performance of plays and dances
in the passage by the Ship Tavern, betwixt Prescott Street and Chambers Street.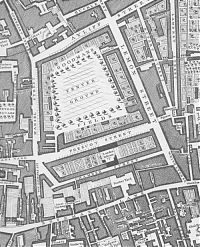 There is little to suggest the existence of the playhouse within the contemporary press, which indicates that this probably was smaller, less popular and unrelated to the later theatre.
The area around Goodmans Fields had, by the early 18th century, gained a reputation for wild behaviour. The Goodmans Fields Theatre was opened with a new manager Henry Giffard on 31st October 1729, and the opening play was George Farquhar's Restoration Comedy, The Recruiting Officer. In 1731, the manager, Henry Giffard, leased a plot of land from Sir William Leman and opened a new theatre in Leman Street, funded by subscribers. It had many famous acts and visitors, and was a popular but notoriously rowdy place to visit.
In 1736, the political satire, A Vision of the Golden Rump was performed, which may or may not have been written by Henry Fielding. It was the performance of this play at Goodmans Fields Theatre, heavily critising Robert Walpole and the Whig government that led to the Licensing Act of 1737. This Act of Parliament was a landmark event in the censorship of public performance and led to the ban on any play that critisised the government or the Crown. The famous 18th century actor and theatre impresario David Garrick worked at the Theatre from 1740 – 1742, and once more made the theatre a fashionable place to visit so that
coaches and chariots with coronets soon surrounded that remote playhouse.
Benjamin Victor History of the Theatres of London and Dublin 1761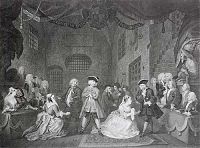 Unfortunately, the success of Goodmans Fields Theatre led to its downfall, and the manager was threatened with prosecution under the Licensing Act. It was the death of the Theatre and it closed down in 1742 with a performance of the Beggars Opera, and was finally pulled down in 1746.
Adapted from Goodman's Fields Theatre by Frederick T. Wood
The Modern Language Review, Vol. 25, No. 4 (Oct., 1930), pp. 443-456