Giving Up its Secrets at Last
At last, the site is finally starting to give up its secrets. During the last 5 months of digging, we have been uncovering a large area of dense interesting archaeology (which will be vital new information for the interpretation of this part of London), but there has been a sort of nagging feeling that the site hadn't lived up to its potential for really glamorous archaeology. I am pleased to report that this feeling has now been completely blown away by a week of fantastic discoveries all of which will be reported in this journal by their respective diggers.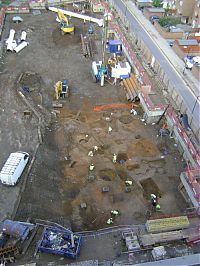 In the run up to this part of the site, we have had Will's building (which incidentally seems to be rectangular not square now that we have got its plans digitised into our onsite GIS) and we had a really nice burial group to the East of it. Last week the first of this new batch of discoveries came to light which was a ring ditch about 3 or 4 metres in diameter which seems to be pretty solid evidence for a round building of some kind. I started my week by going upstairs in Number 66 Prescot Street to take pictures from the balcony of BT Radianz. Many, many thanks to Kay, who helped us get such a great view of the site and some good photos of the ring ditch.
We can now add to this two extremely rare and interesting cremations found close together to the East of this building, as well as a beautiful chalk-packed juvenile burial and a stunning stone-lined grave or tomb base! What can I say… we are all knocked out by the quality and density of archaeology at this end of the site. Any one of these finds ought to rank up high on an archaeologists list of "what's the best thing you ever found", but to have all of this in one week is just really exhilarating.
On a practical level, I am really happy that this stuff has turned up now after all of our diggers have had 5 months working together, and honing their single context recording skills. It feels like we are a well-oiled machine ready to tackle this beautiful stratigraphy.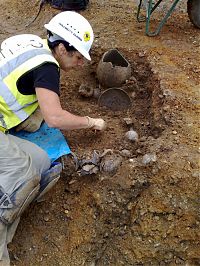 Ruth's cremation is probably the richest cremation burial found anywhere in the cemetery, and ranks right up there with any cremation burial from the entire province of Britain. Ruth will fill you in with all the details and colour pictures on Tuesday. Alongside it, Will's tile cist cremation is only the third such structure to ever be found in the Eastern Cemetery, and is doubly significant because it was accompanied by a secondary cremation in an urn (dare we imagine a husband and wife?). Both of these highly unusual cremations are closely associated with the round ring-ditch structure. I would also like to note at this stage the three disk mouthed flagons that Chaz found during the evaluation in 2006 only a few metres from these features.
Anies will fill you in on his stone-lined tomb next week, but on a personal note, I would like to take the blame for the horrible slot that I dug through the end of the structure during the evaluation trench. Back in 2006, our trench 3 just clipped this structure, and finding the rubble and tile rather loose, we did not spot this as a structure and instead, we dug a good portion of it out. In the end, no major harm was done, apart from perhaps making the feature a little less photogenic.
You can't make an omelette without breaking eggs.