Project Director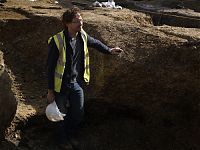 Guy is one of the founding partners of L – P : Archaeology and is based in the London office. He runs some of the larger London based fieldwork projects, and works on our digital projects.
Guy studied archaeology at the Institute of Archaeology, UCL. After graduating in 1998 he worked briefly in the Caribbean before working for Lawson Price as an assistant archaeological consultant. Guy was a partner at the initial set up of L – P in 1999.
Guy has published several papers on the storage management and dissemination of archaeological data online but his real archaeological interest remains the excavation and study of London. Guy is a full member of the IFA (MIFA).
Guy's Journal Articles
Guy's Galleries
Guy's Website Contributions