Fergal - Don't Leave Me This Way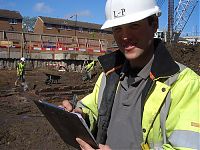 We have reached the end of our time here on Prescot Street and I would like to take this opportunity to have a little review of the past six months. When we began, the expectation of immediately encountering numerous burials never materialised, but we persevered through the endless soak-aways. However, our patience was finally rewarded and in the second half of the dig when there were more than enough burials to go around. For me, the one aspect of this dig that I think I will remember this; writing blogs, digitised records etc. etc. For most of us this was new territory and once we got used to the idea it quickly became apparent the advantage of conducting a dig in such a manner, I have spoken about this in my previous blog so I will not repeat myself again. But it benefited both us diggers on site and interested observers at home!
This site has been one of the most interesting sites on which I have worked, a feeling which was enhanced by the Open Evenings and the associated lectures. It was also quite enjoyable to show the public what we do and I hope we gave an insight into the complexities of commercial urban archaeology.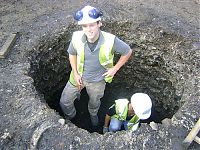 I could say that when I leave Prescot Street it will become a distant memory and look back in years to come through rose tinted spectacles on the spring, summer and autumn of 2008, but of course it has all been saved for posterity! All the same this has been a unique and very interesting site to work on in both an archaeological and personal perspective and have made many friendships.