Deeps Pits and Shallow Graves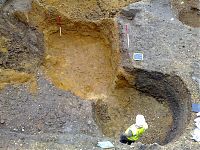 Since my last post the site has really changed a lot. This is mostly due to the number of Roman graves we have started to find, making a welcome change from the Georgian pits. Don't get me wrong, Georgian waste really is all it's cracked up to be, but the Roman stuff is a breath of fresh air. After taking out some backfill from quarry pits, I was pleased to inherit the Roman grave from Greg as he goes on his holidays.
Working on graves is very different from working on other features. The primary reason for this is the fact that things have been buried whole. Someone didn't break a pot 1700 years ago, and then chuck it in a pit. They placed it there, along with the body of a loved one, so that it could be used in the afterlife. The variety of finds is also of interest. An eclectic mix of bones, ceramic finds, metal objects and a coin "to pay the ferryman" make for a very interesting feature. Making sure that you put in as much care in removing the finds as someone did placing them there is important, as they can often be very fragile after hundreds of years in acidic soil.