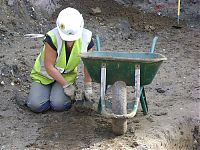 I thought I would be glad to write my last ever blog, but I'm not. Writing this is like finishing the final chapter of a book you just don't want to put down. You see, I've had such a good time time working here. The archaeology has been quite diverse and I've had some fab features to excavate; horn-core pits, empty graves, skeletons in odd poses and a rare glass millefiori plate, placed within a very rich cremation to name but a few.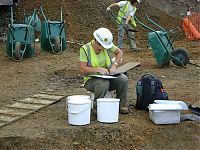 The weather hasn't been great at times, but the people have been. I have never worked with a nicer bunch and I'll be sorry to leave… We have all been looking for jobs to move on to and I think most of us have got somewhere to go; in fact, six of us will be working together again in Essex!
Well, that's all from me..it's stopped raining, so I can go outside to play, I mean dig, again – There's work to be done and only 3 days to do it in!
Goodbye!