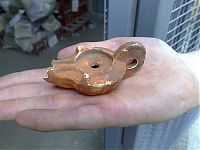 Called away from the myriad of GIS digitising, last Friday I helped with the vital task of transporting the site's accumulated finds for cleaning and conservation at the Museum of London's finds department in Eagle Wharf Road.
After offloading the considerable number of bags of pottery, ceramic building material and animal bone, and carefully wrapped human skeletons to the conservators, we took the opportunity to examine some of our earlier finds after processing, including a small Roman terra cotta oil lamp, found in pit Context: 865 in zone 1.
As you can see from the photograph, this lamp, about 10cm in length, is in an excellent state of preservation after more than 1,600 years in the London soil, with intact handle, discus and pouring-hole, and only a chip to the right side of the nozzle. It's strikingly similar to one I found on a dig in Central London three years ago.
I've gained an intimate knowledge of the site's layout whilst working with the GIS master map, but well preserved 'everyday object' finds like this, which would have formed part of regular life for Roman Londoners, remind me of what it all really means. Below is the plan schematic for Context: 865, the pit in question.