I Never Can Say Goodbye..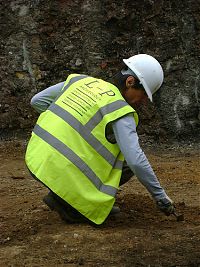 …a chill wind blows down Prescot Street….its nearly our last day…….our last hour….we are digging the last piece of the site…for me a midsummer night's dream is coming to an end and time for me to wake up. Actually that's not hard to do… its frantic out there …its a mad, mad rush to finish on time…it's daft punk all over again..this time the mother of all daft punks…. then goodbye. I hate saying goodbye….I'm shy…rather leave a note and slide out a back door…This is my note I guess..in cyberspace…so here goes….Dear all, it's been fun..a dream…..all a bit special…the archaeology has been fab too..its hard to say farewell…oops saying that word always makes me think of the sound of music..its my Austrian half you see but I will try and stop it coming out in my note…damn.. can't…sorry..so long farewell Aufweidersehen goodbye…. I flit, I float, I fleetly flee I fly….ok that's the note.
Now where's the back door…in cyberspace?…ummm…I may be sometime…bye…missing you all already.