Here I am again in my second participation in this amazing blog.
Since the first time I wrote here, things haven't changed too much. We are still digging out Zone 3, which is getting more and more tricky with all those features with strange shapes and with no apparent relationship between each other. That is what we are trying to find out. What we have to!!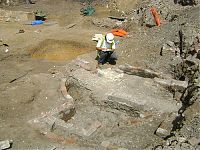 For the moment I am digging the feature Context: 1506 that is a modern drain (when I say modern I mean 19th century probably, so from practically yesterday!) and the soak-away, which it is cutting. Well, I can say this job that we are doing right now it is not as interesting as what we did before with all those burials, inhumations and cremations everywhere, but the target is to figure out what it is going on in this level to get deeper, where, I hope, some inhumations are waiting to be excavated.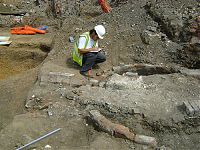 I thought I was never going to say this but…. I miss the rain!! I mean, being Spanish as I am, you can suppose I am not used to it and I feel comfortable with these pretty sunny days, but the truth is that it is very hard to work like this (yeees!!! Even for me!!!). That makes me think in how good it would be to be there in Alicante, my home town, near the beach, drinking a beer with some tapas ( una cerveza por favor!). But what!!!!! I am working on a very interesting site and I just look forward to find the next Roman buddy and bring him out of wherever he is.
Next chapter soon.