And So the End is Near...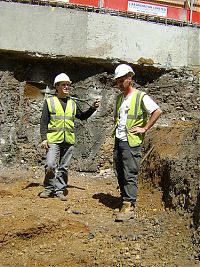 Everyone is very tired, having worked solidly for the past few months. Conversation on site has turned inevitably to employment plans for the future, and my thoughts turn periodically to how I shall miss everyone. In particular, Gary's chirpiness and humour, Fergal's burgeoning obsession with General Franco (and his occasional baiting of Adrián on the subject of El Caudillo), Greg's sardonic mordancy, and Tom's alarming propensity for Jägermeister.
I've enjoyed the archaeology here, although my back protests about those days of shovelling. At this point, Lorna is distracting me by alternately mouthing sweet nothings and making stupid faces at me, which reminds me that I wouldn't have met my beloved had I not worked on this excavation. One is very thankful for such enormous blessings.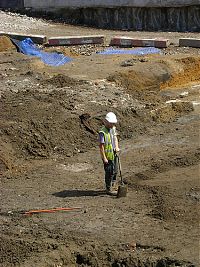 And what in the future for what we've found? Well, there are heaps of finds to be processed and examined – mercifully not by me. There ought to be some interesting results from the pathology on the skeletal remains of London's first inhabitants. Somebody is going to be very taken with our collection of late Medieval shoes. And some of the small finds might really be found to be treasure. For me, the find of the site has to be Ruth's millefiore glass bowl. But the real surprises often come from the tons of environmental samples which we've taken and have been lovingly tended by Fergal prior to their despatch to Cambridge and Steve's tender attentions.
But, for now, it's back to work for some to destroy some of our past with my favourite shovel, The Punisher (as named by Gary.)