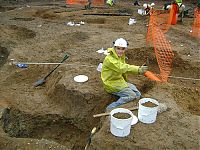 This is my penultimate day on site. I'm sad to go because its been an enjoyable six weeks; very interesting archaeology and very friendly people. I could do with another week of fried breakfasts at Leman's or tricolore paninis at the place next door, or very cheap sandwiches at the place next door to that.
I've never seen so many whole pots as on this site, and there's also been whole bottles and the famous decorated bowl. Last week I found four Roman coins in four days. Three were about the size of ten pence pieces, but one was more like a two pound coin.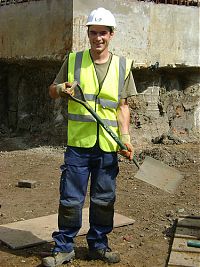 I've dug several cremations and a couple of burials now. It seems to me that a cemetery is one of the best places for an archaeologist, because you have the remains of the people themselves and some of their finest artefacts. I should think the variety of internments we've found will confirm the pluracy of religious beliefs in Roman London. I'd like to think that many of the Romano-Britons buried here would have spoken some ancient form of Welsh and that they could be my ancestors.
Okay I'd better go back to work now because we've only got a day and half left…