GIS

, Survey and Digital Data Management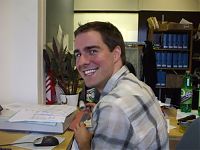 Andy joined L – P in the spring of 2005, and is responsible for coordinating GIS applications and on-site survey for various L – P projects. He first studied Anthropology and Statistics at McGill University in Montreal in 1999, and has since completed a Masters of Science in Geographical Information Systems at UCL in 2005.
Working with L – P Andy has developed an interest in digital recording systems for archaeological excavation. Through his involvement in projects such as Villa Magna, Italy and Prescot Street he is constantly developing new ways to encourage involvement and create online communities for both academic and commercial archaeological excavations.