Pierced to the Heart by the Charms of Brown Bess…
Since last week's discovery of musket balls at Prescot Street, the excavation of post-medieval soak-away [1676] has unearthed an excellent example of a gun-flint from a flintlock mechanism. Since this is a stratified find, I'm rather chuffed that it's proving my speculations about military activity on the Tenter Ground!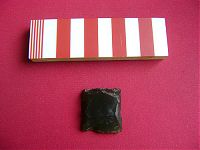 Measuring 29mm x 32mm x 8mm, and with a striking edge of 11mm, it is rectangular in shape and appears to be black flint, conforming to the black Kentish flint quarried for the British Army during the 18th and 19th centuries (as opposed to the semicircular amber gun-flints favoured by the French), and is of the appropriate size for the lock of a large long-arm like the Brown Bess musket as mentioned in my last journal.
Originally developed circa 1630, flintlocks replaced both matchlocks, which held a slow-burning match in the spring-loaded hammer that would fall onto the fuse, and wheelocks, which used a steel wheel grinding against a sparking material to ignite the powder in a similar fashion to modern cigarette lighters. Flintlocks were able to be reloaded and fired much more quickly and efficiently than their clumsy forerunners, were less of a fire hazard and could even be fired in the rain. Certainly, they were a significant step in the morbid yet inevitable development of warfare in the politically turbulent post-medieval age!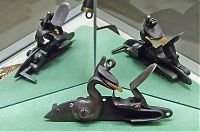 With a flintlock mechanism, the hammer is in two parts, with the flint held between them with a screw. In front of the hammer is the priming pan, a small metal 'bowl' which the shooter partially fills with gunpowder after pulling the hammer halfway back (hence the expression 'half-cocked'). Above this is the frizzen, a hinged lid which closes over the pan. The gunpowder and shot is then loaded into the muzzle and rammed down to the breech with the ramrod. The hammer is then pulled back to 'full-cock', and the weapon is fired, the flint knocking the frizzen open, striking the pan, sparking and igniting the priming charge, which would set off the powder in the breech, discharging the ball. During the Napoleonic Wars, British infantry columns were able to deliver an average of three rounds per minute in double ranked lines.
Our gun-flint has a prominent dent in the right side of the sparking edge, meaning that it has probably been used, perhaps by one of the militiamen in 1799 mentioned in the Economist and General Adviser, who, after firing a salute or a display volley, tossed it aside to join the archaeological record…