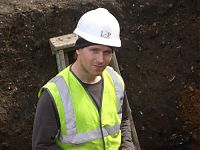 Greg studied archaeology at the University of Liverpool and graduated in 2003. He has worked full time as a field archaeologist ever since, on rural and urban sites in England and Ireland. Greg joined L – P : Archaeology in November 2007.
Greg is one of the excavation staff at Prescot Street he is responsible for the excavation and recording of the archaeological deposits on the site. He is one of the more experienced diggers and so will also be learning some of the supervisor duties during this dig.
Greg is affectionately known as 'The Cheese'.
Greg's Journal Articles